Overview
As Amazon Business(AB) grows and new customers from small and large organizations join, we needed an ever evolving strategy to drive them towards activation and limit idle accounts. Additionally, with so many new features rolling out, we also need to do a better job steering them towards the features that meet their needs
The challenge:
The value of Amazon Business over personal accounts is unclear. In addition customers are not completely aware of how to navigate and leverage Amazon Business to their benefit.
What we know:
In a cohort analysis of newly created AB accounts, 79% of AB accounts do not make a purchase in the first 60 days, but customers that engage with AB more frequently are more likely to activate.
Evaluating the same cohort, we have found there were business-specific pages that lead to customers being at least 50% more likely to activate when visited in the first 60 days.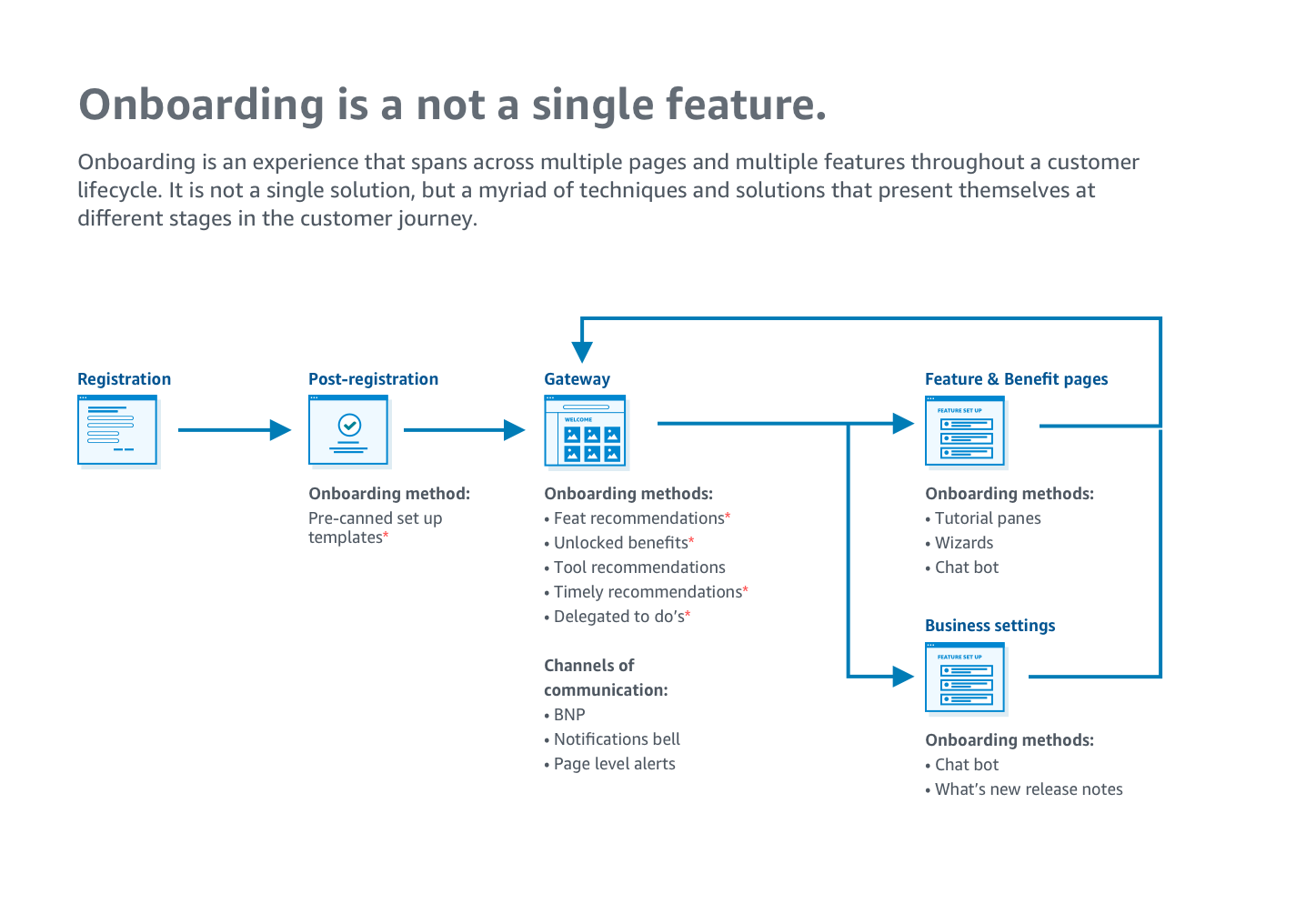 Design strategy
We will measure success on our ability to engage customers with the expectation that more meaningful engagement will lead to long term adoption of Amazon Business as a procurement provider.
Improve the following pillars:
• Availability of our recommendations
• Precision of our recommendations
• Quality of onboarding content and process.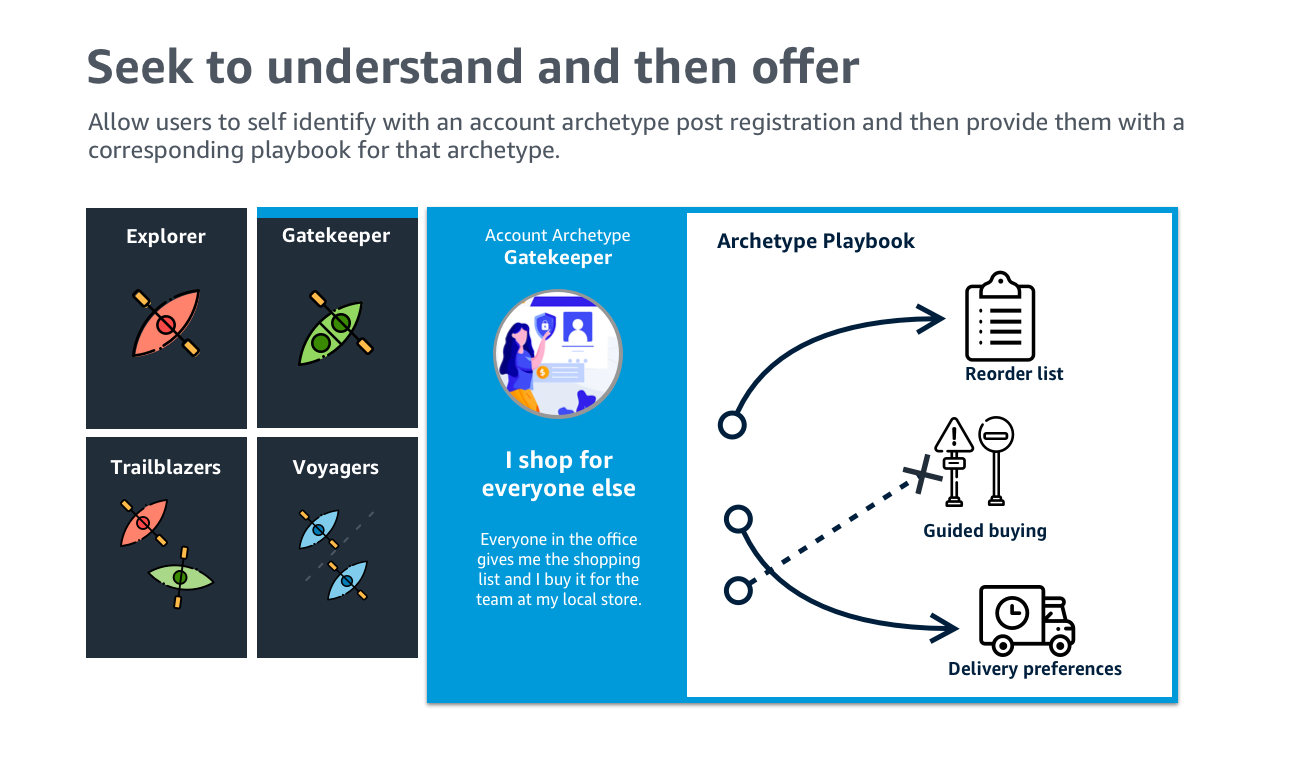 CX goals
Reduce the time to activation in new accounts
Provide clearer guidance towards features and benefits that better align to users goals and their business demographics
Discovery & research
In figuring out the best way to provide users towards the right features I met with 8 professional services team members who specialized in different size accounts. I wanted to know what were the most common features and lifecycle patterns for single user accounts and multi-user accounts in order to provide them with the right guidance for self service.
What I learned:
The sweet spot was the micro multi-user accounts. These were users who started as single user accounts, but were really buying on behalf of their company.
Single user accounts had similar journeys and relied on the same features
Larger multi-user accounts required a personalized touch, and relied heavily on professional services. Common patterns were harder to identify.
Identify the high value actions(HVAs) and figure out a way to make them relevant to the customer. After speaking with various SMEs I isolated the HVAs with the most significant lift.
Account archetypes
I was able to create account archetypes based on the research findings and interviews with pro-serv and SMEs. Each archetype included the various customer segments that mapped to this archetype and the features they most commonly used. I gave each archetype a name and created a matrix for our product team to reference.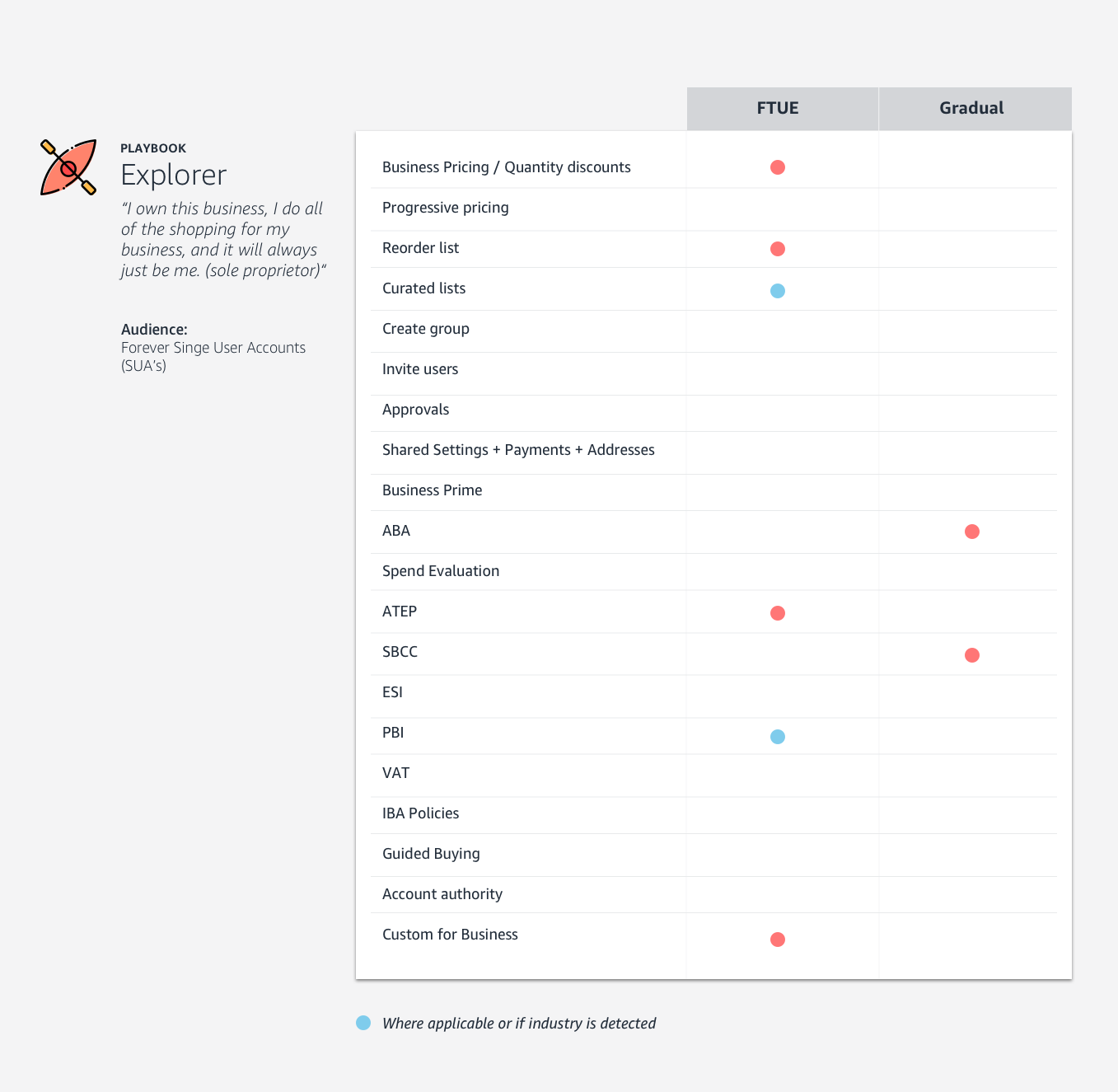 Explorer
These were primarily sole proprietors and forever single user accounts.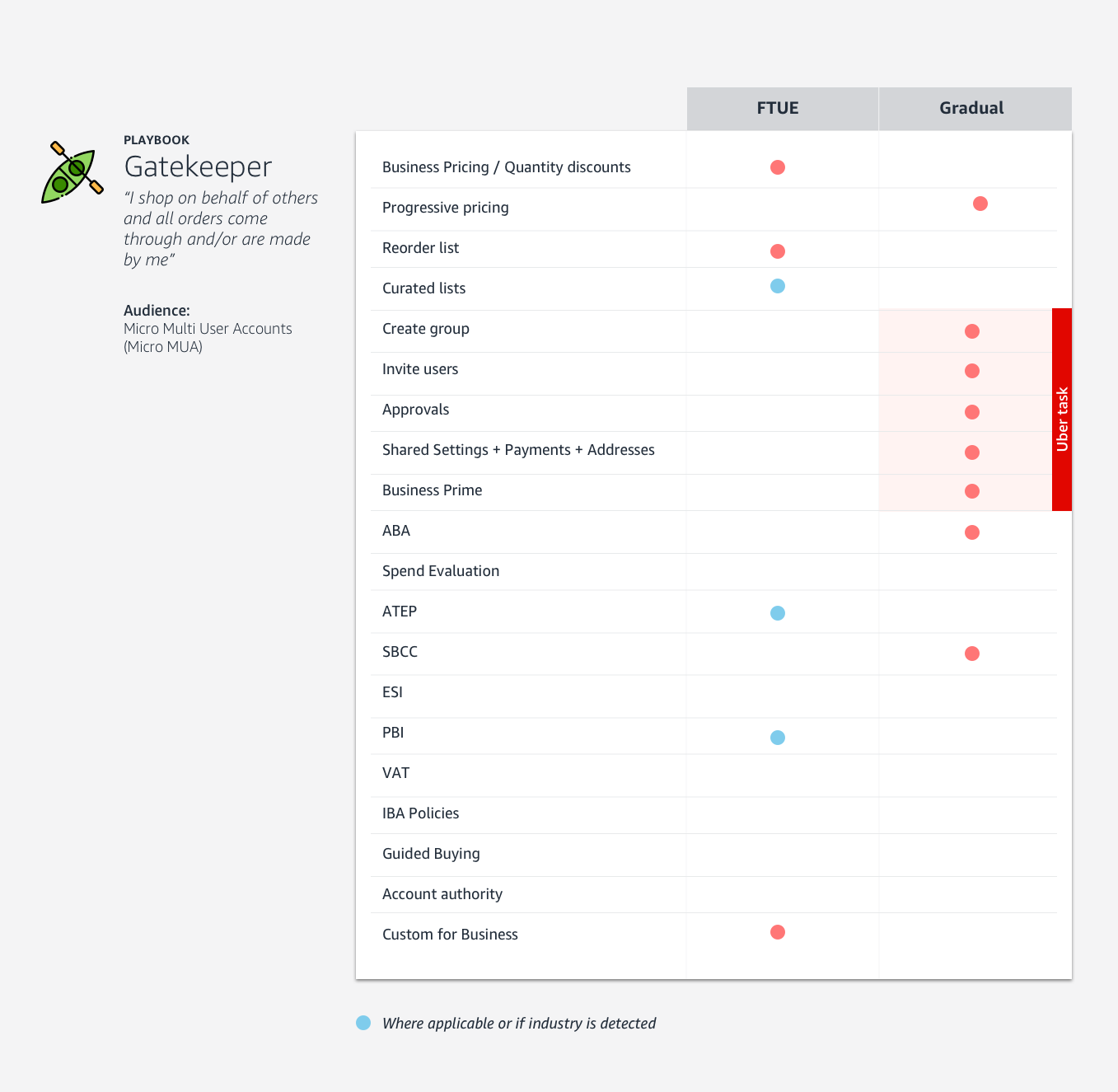 Gatekeeper
These were users who belonged to a organization, but ordered on behalf of the organization. This archetype was key to identify, because they were prime for being converted to micro multi-user accounts(microMUA).
Both MicroMUAs and MUAs generate $30m a week in OPS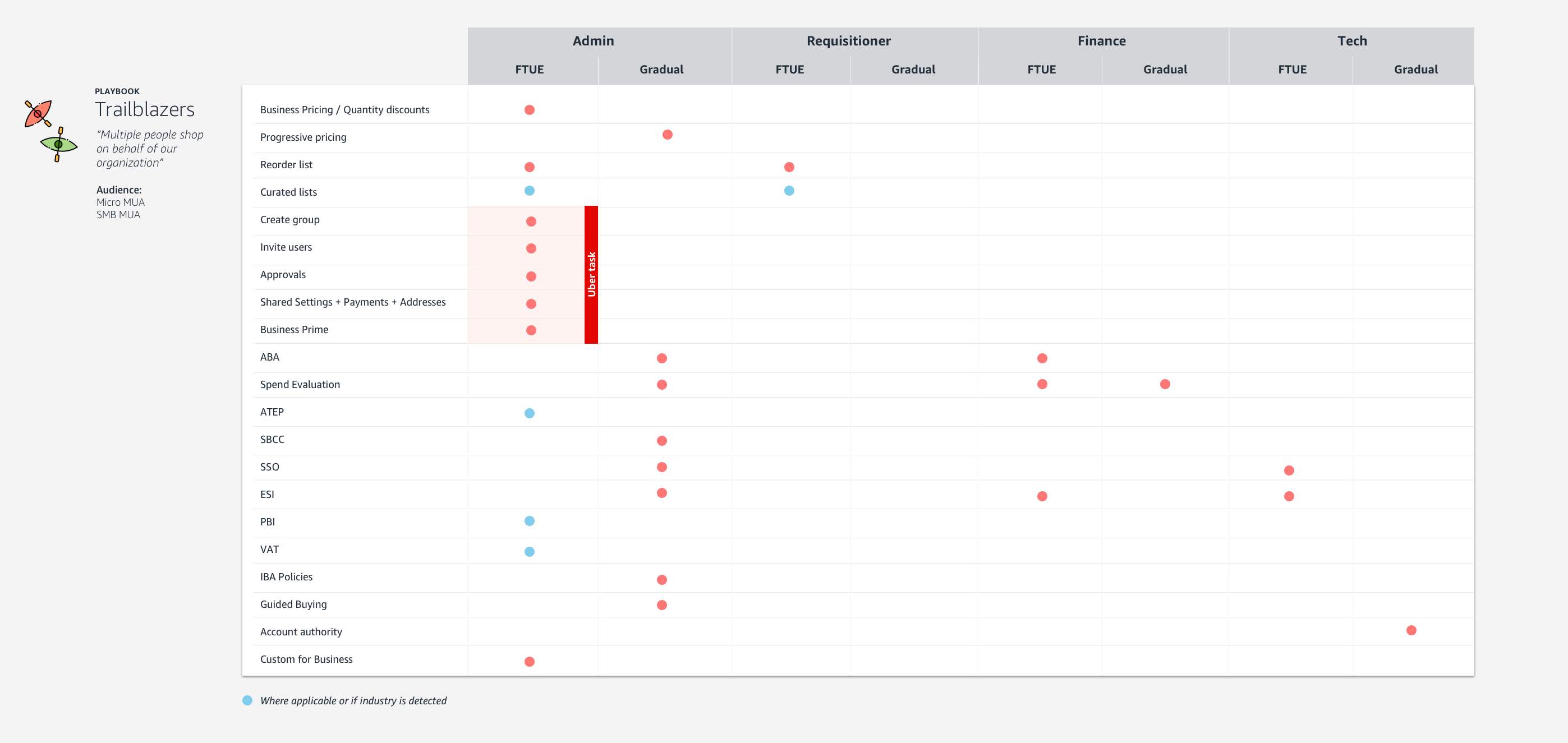 Trailblazers
These were accounts with multiple users, but no restrictive buying policies.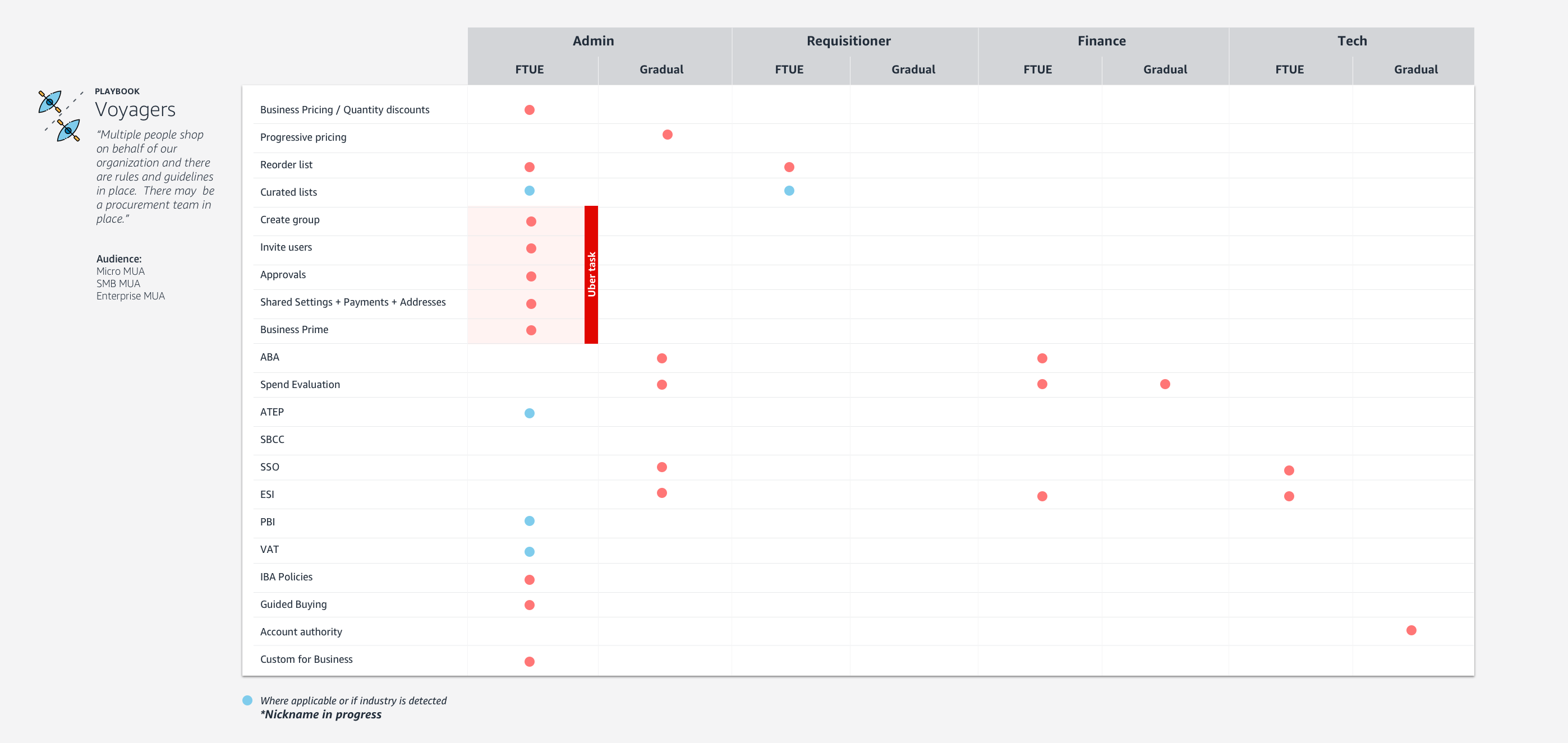 Voyagers
These were more mature accounts with policies in place to manage purchases and approvals. These accounts were often set up by our professional services team.
Delivering recommendations
One of the questions I grappled with was how do we get our message to the users? Where are the best places to surface our content? Emails often go unnoticed and the same could happen if we over-utilize the nav bell to promote recommendations.
I determined the best method was a "just in time" approach. This method would engage users during crucial decision points in the lifecycle. The suggestions would be timely and relevant. We would have to acquire real estate across the AB site and would need to be highly selective in where we posted our content.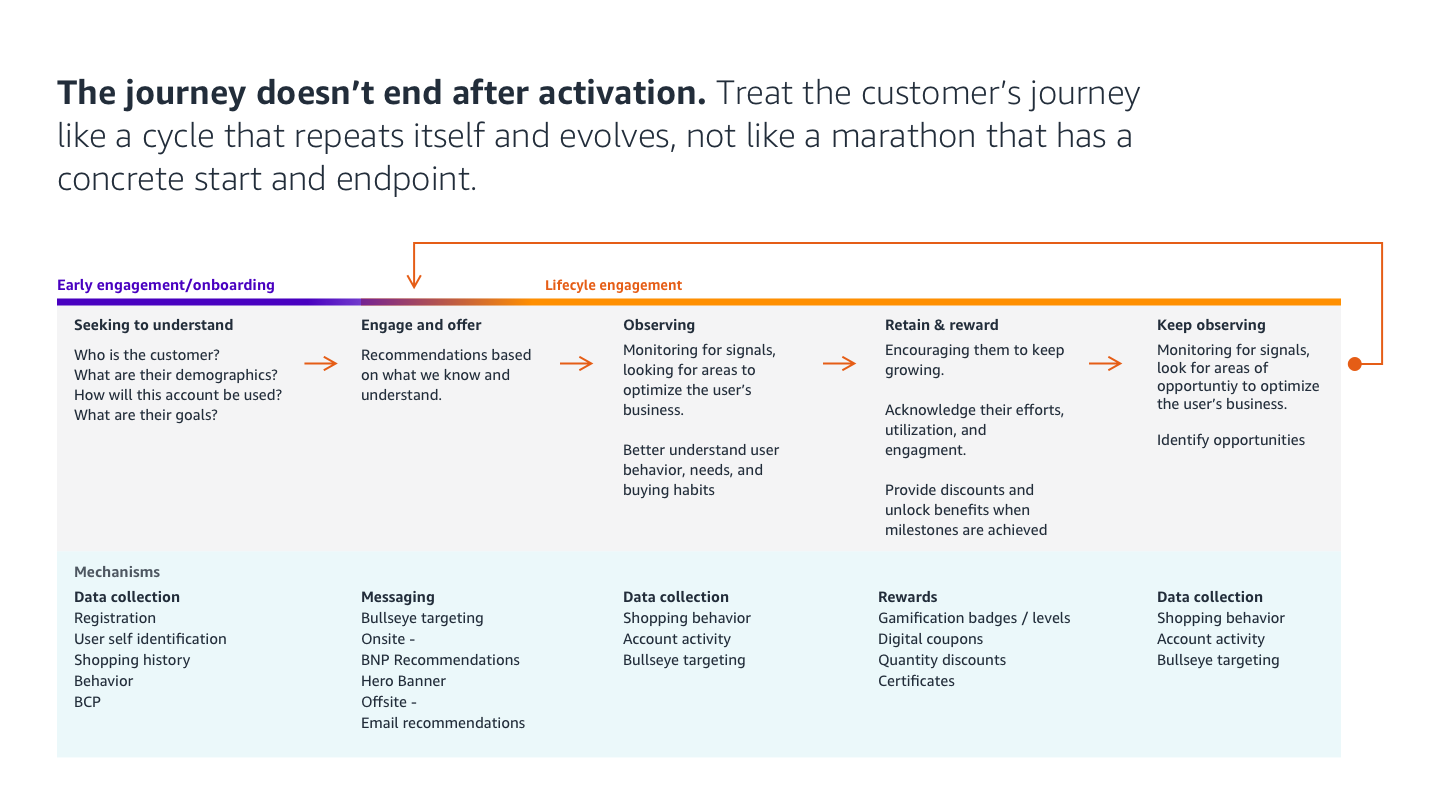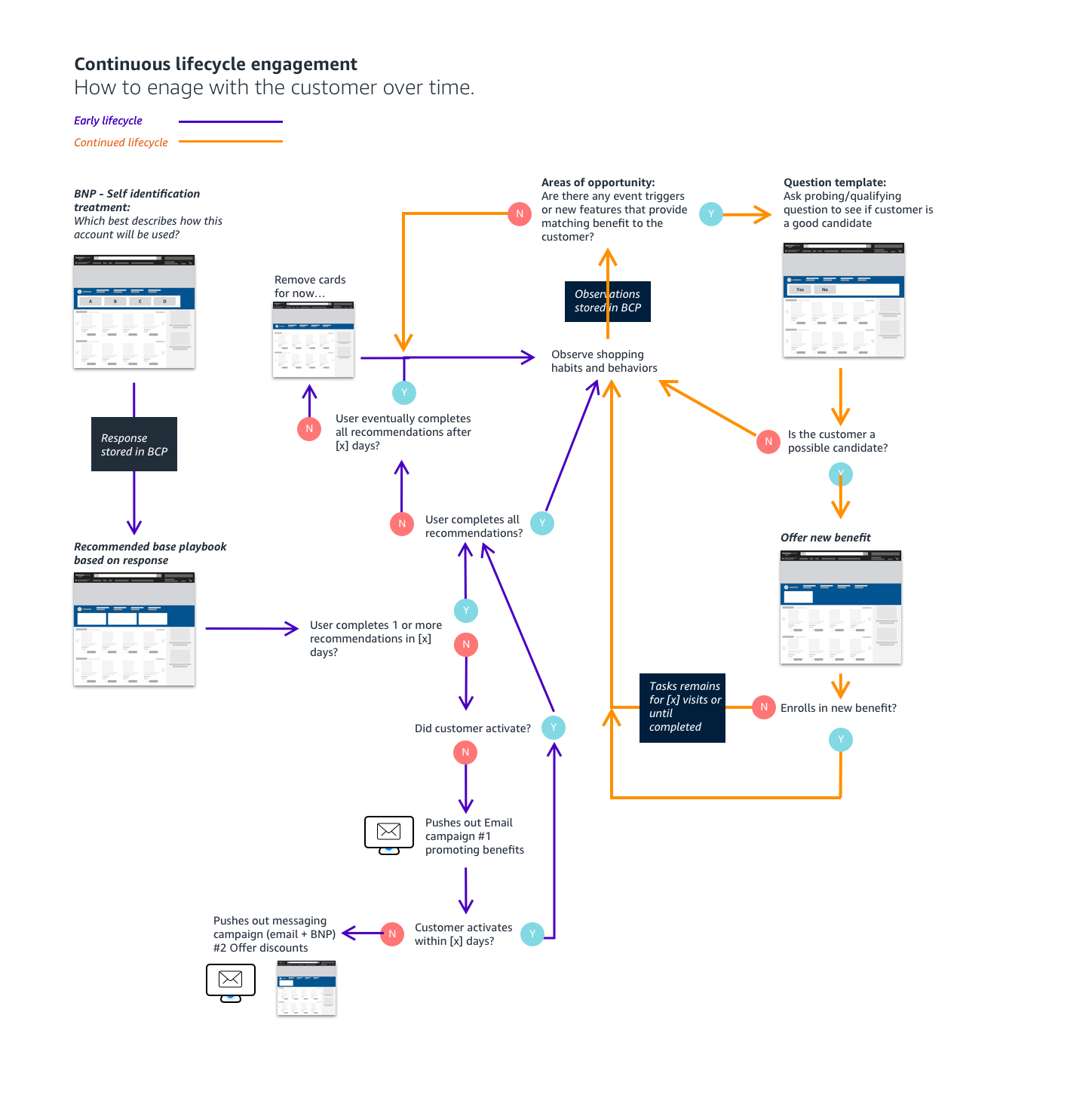 Early concepts based on research
We were able to secure real estate below the hero banner on the Amazon Business gateway. This piece of real estate was crucial for early engagement, but we need to acquire more in nuanced areas across the site to achieve our goal of timely suggestions.
In the meantime, as I began to finalize the account archetypes, I worked on some early mocks on how to trigger engagement and ways to maintain it.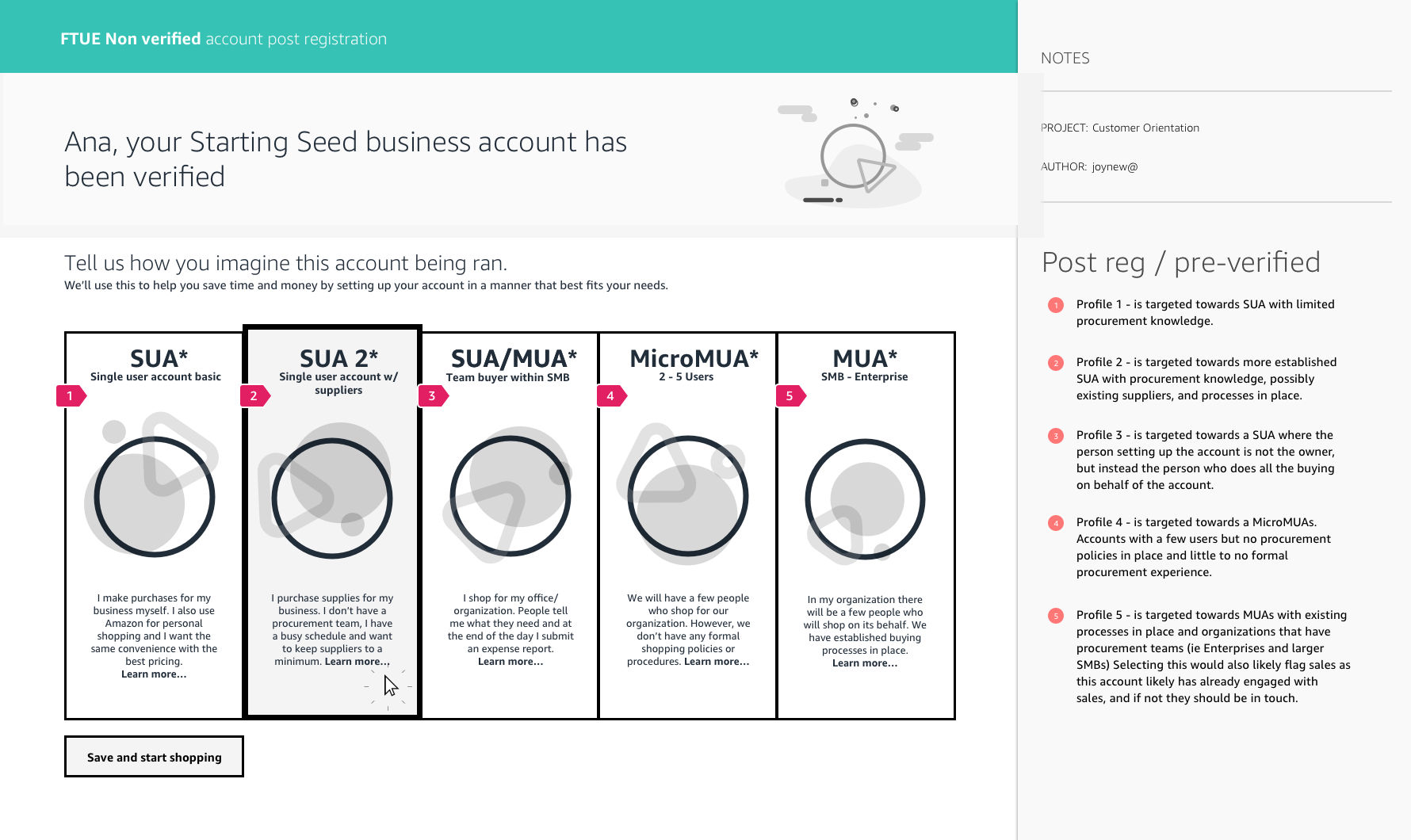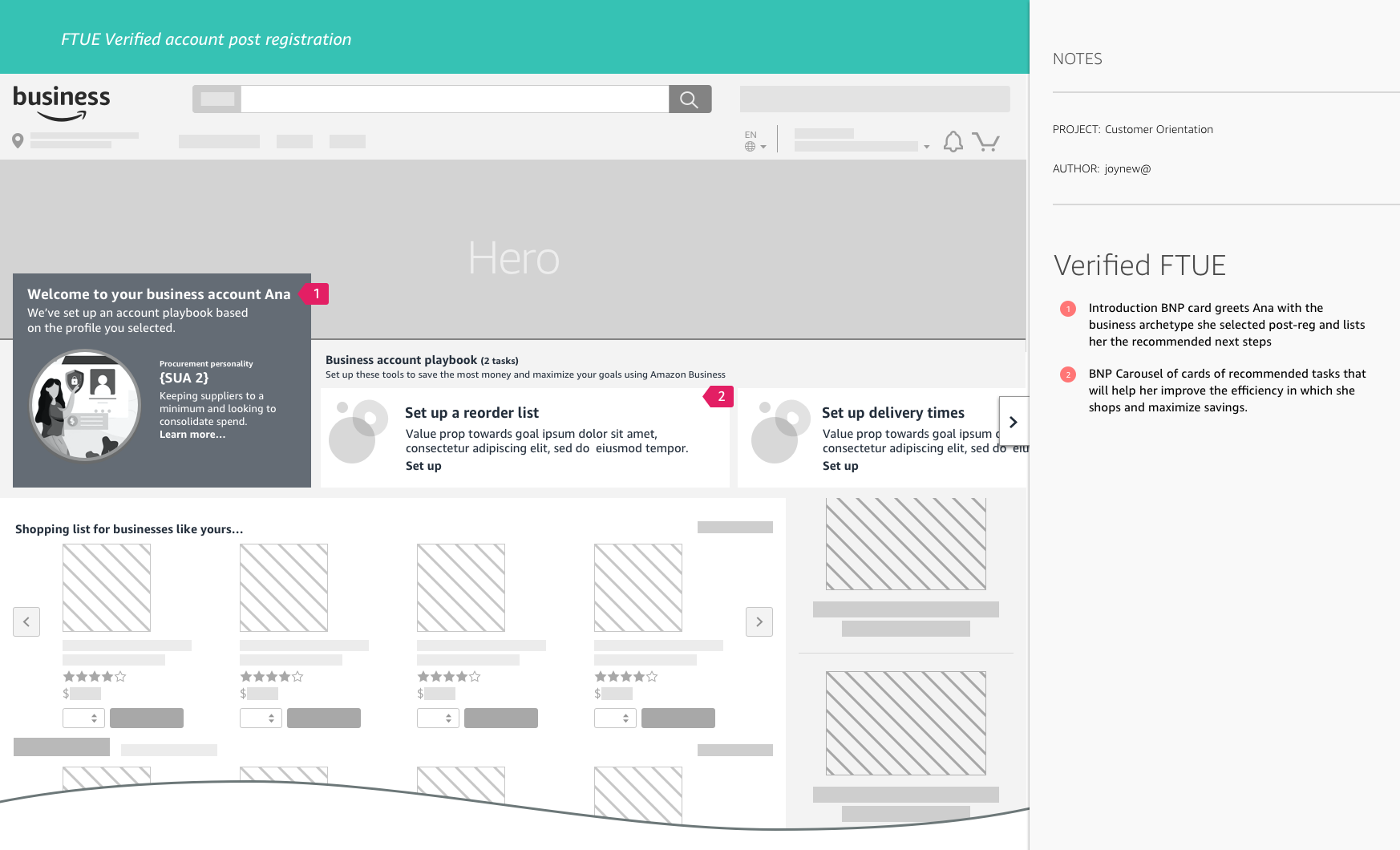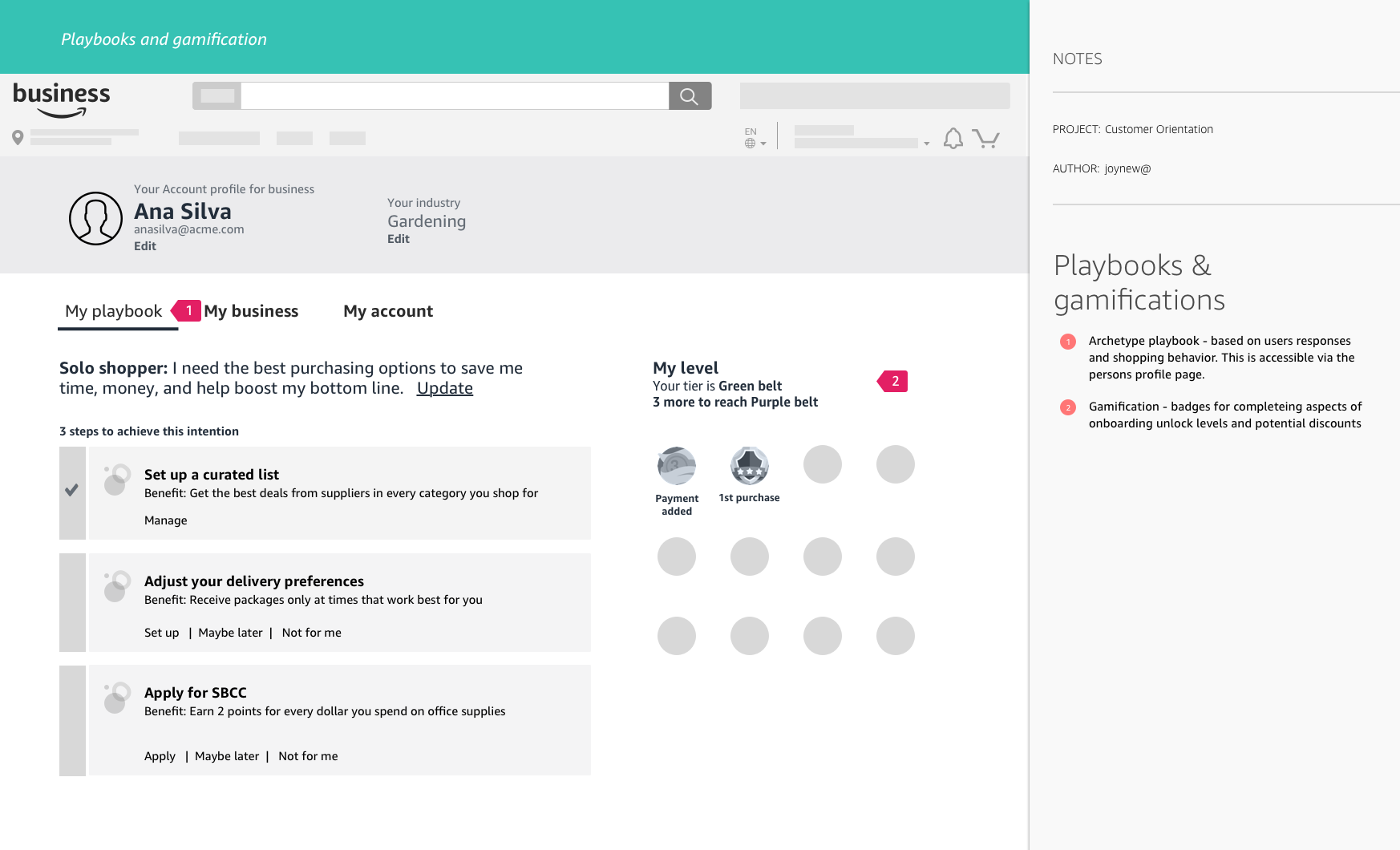 Activation playbook strategy
I met with individual feature teams to understand who their target customers were. In our conversations my goal was to identify the characteristics of their customers and what qualifiers they used to pinpoint target customers. I used this data to create a rough playbook for our developers to follow.
The concept I proposed was to promote relative high value actions(HVAs) during relevant periods in the customer lifecycle for a given customer. It was all about timing.
Early in the lifecycle we only promote the HVAs that are most common, and yield the highest conversions. As time went other HVAs would be promoted once the user had activated(made a purchase) within the account. The more active the user was in the account, the more HVAs we promoted.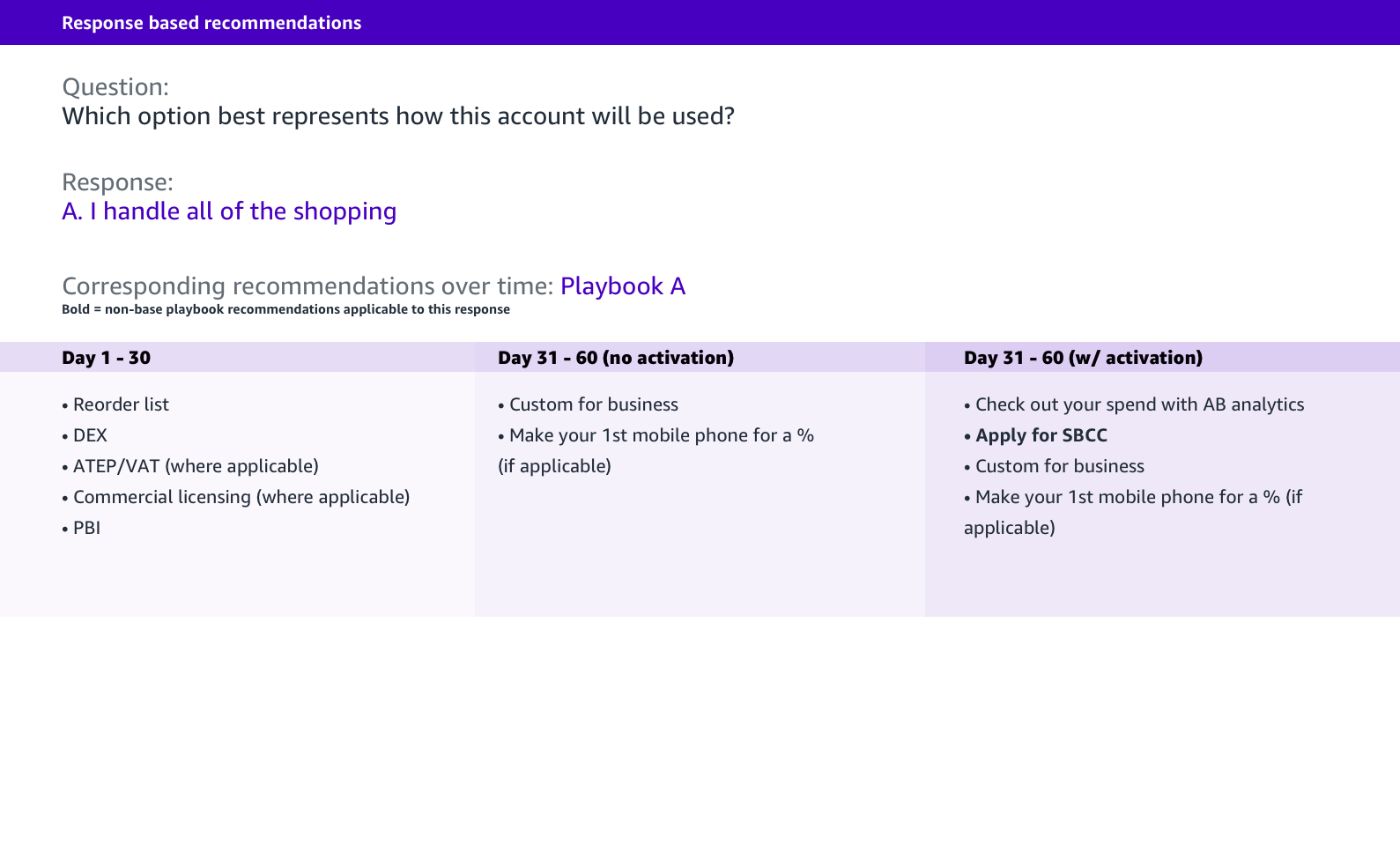 Identifying the explorer
Early in the account lifecycle we would ask the customer a simple multiple choice question "Which option best represents how this account will be used". This question is the conversation starter and sets the stage for all other recommendations in the future. The user also has the option to revisit this question later on to change their answer based on their business direction.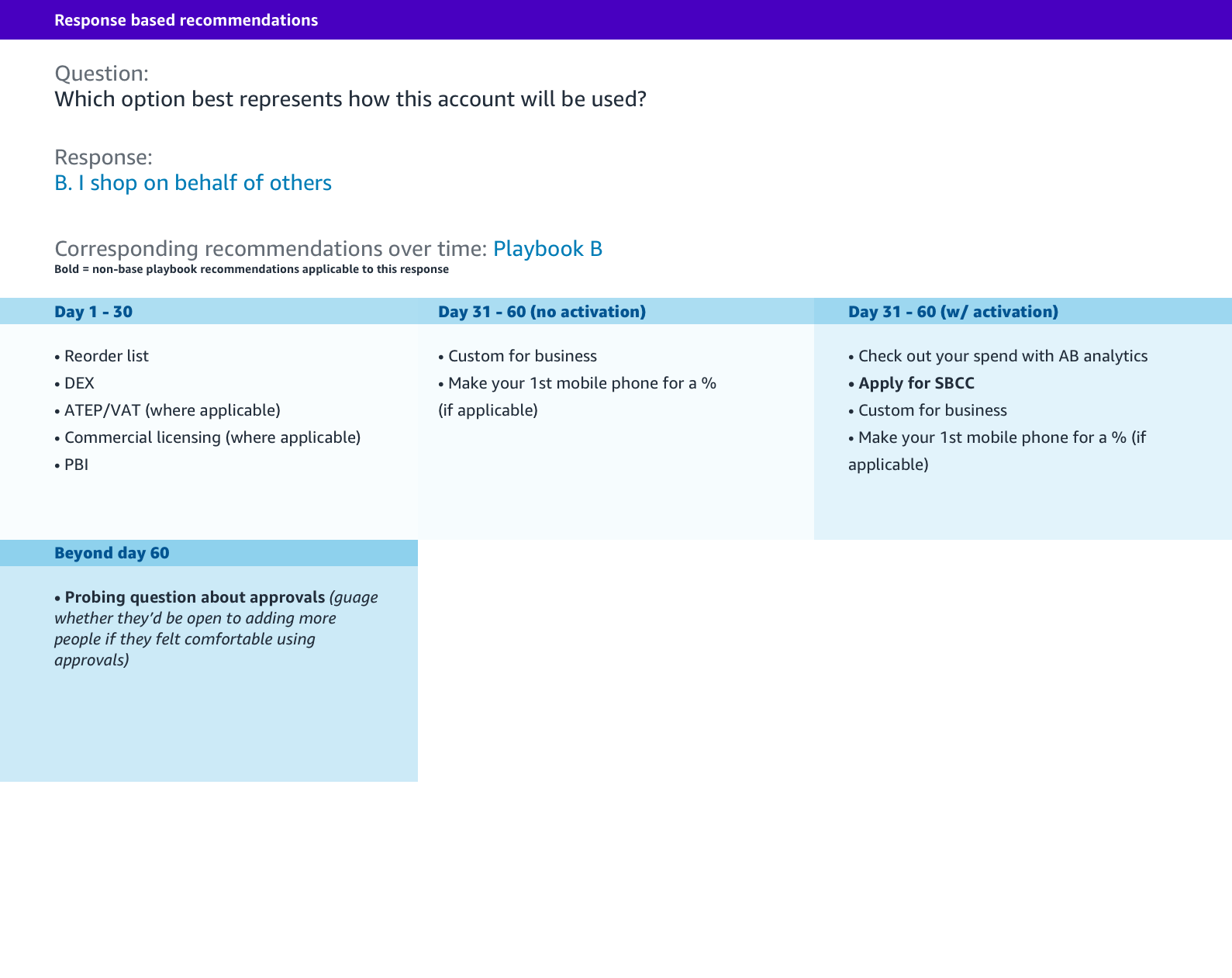 Identifying the gatekeeper
Playbook based on "gatekeeper" archetype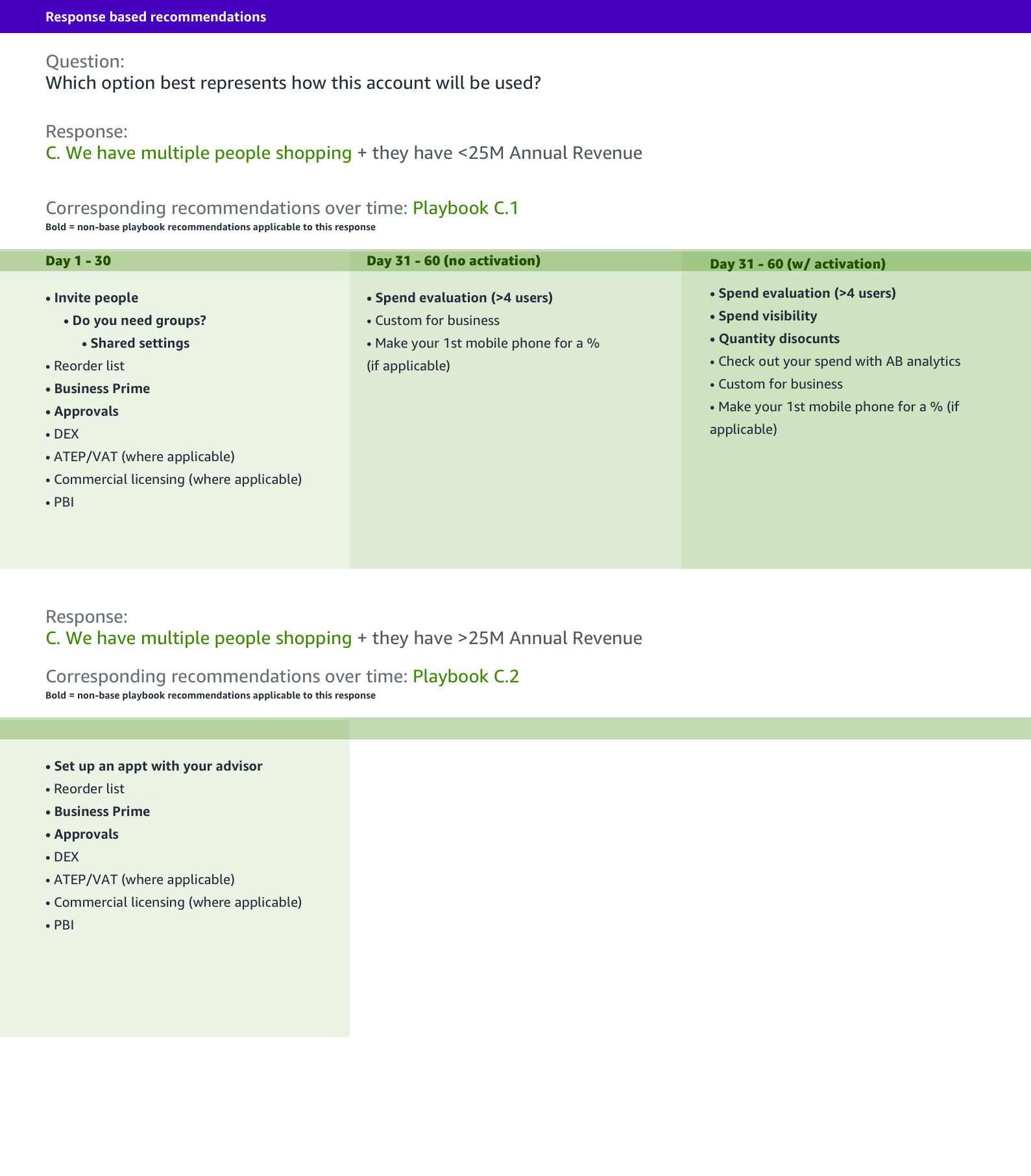 Trailblazer playbook
Playbook based on the trailblazer archetype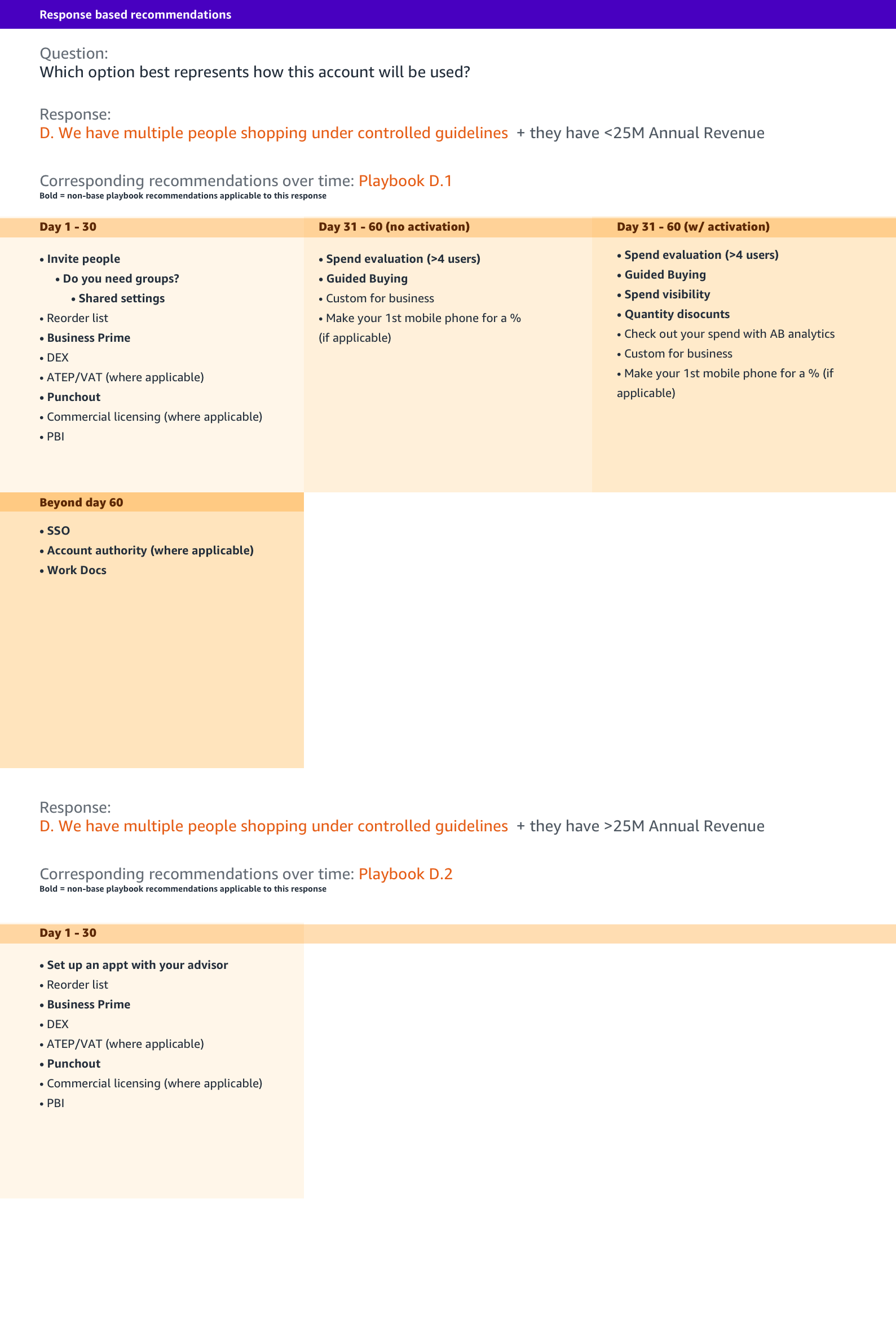 Playbook for voyagers
The voyager playbook and trailblazer playbooks are also unique because if the account has greater than >25M annual revenue they are assigned a professional services agent, who will likely set up the account. If they fall into that segment then they are not targeted as much for recommendations.
Final UX
I collaborated with the UX designers of the Amazon Business gateway to provide a mechanism to ask customers a questions and surface recommendations.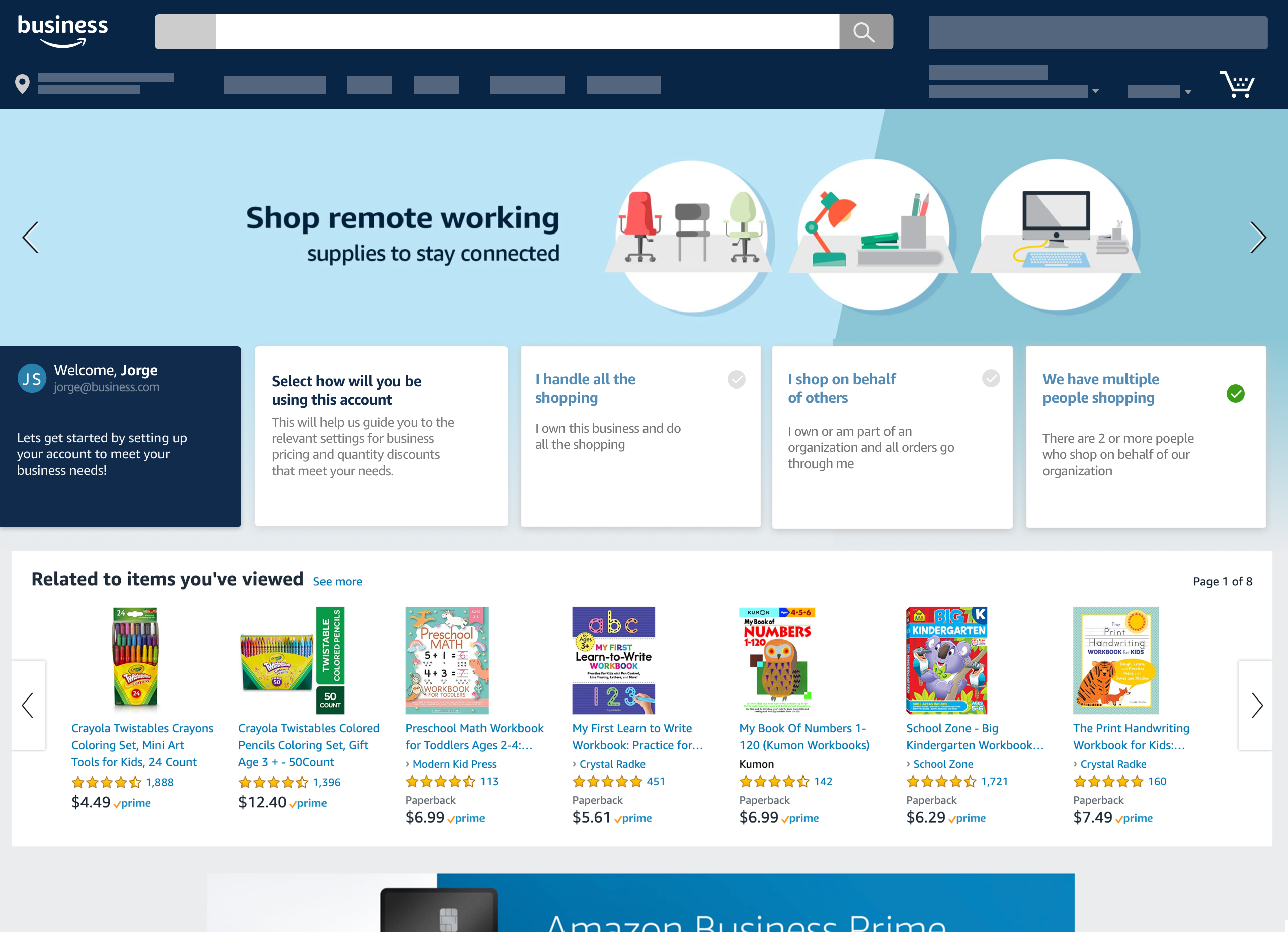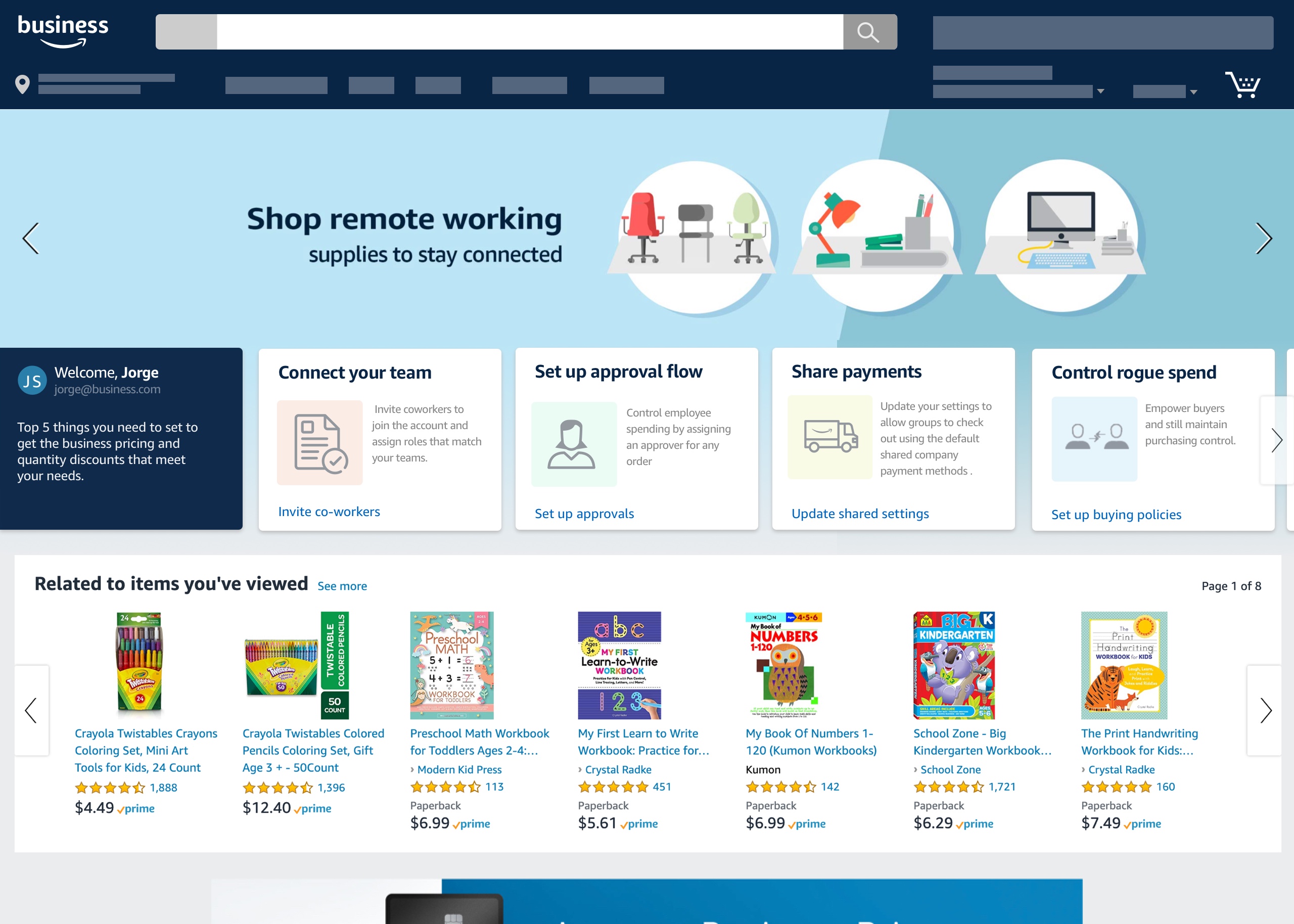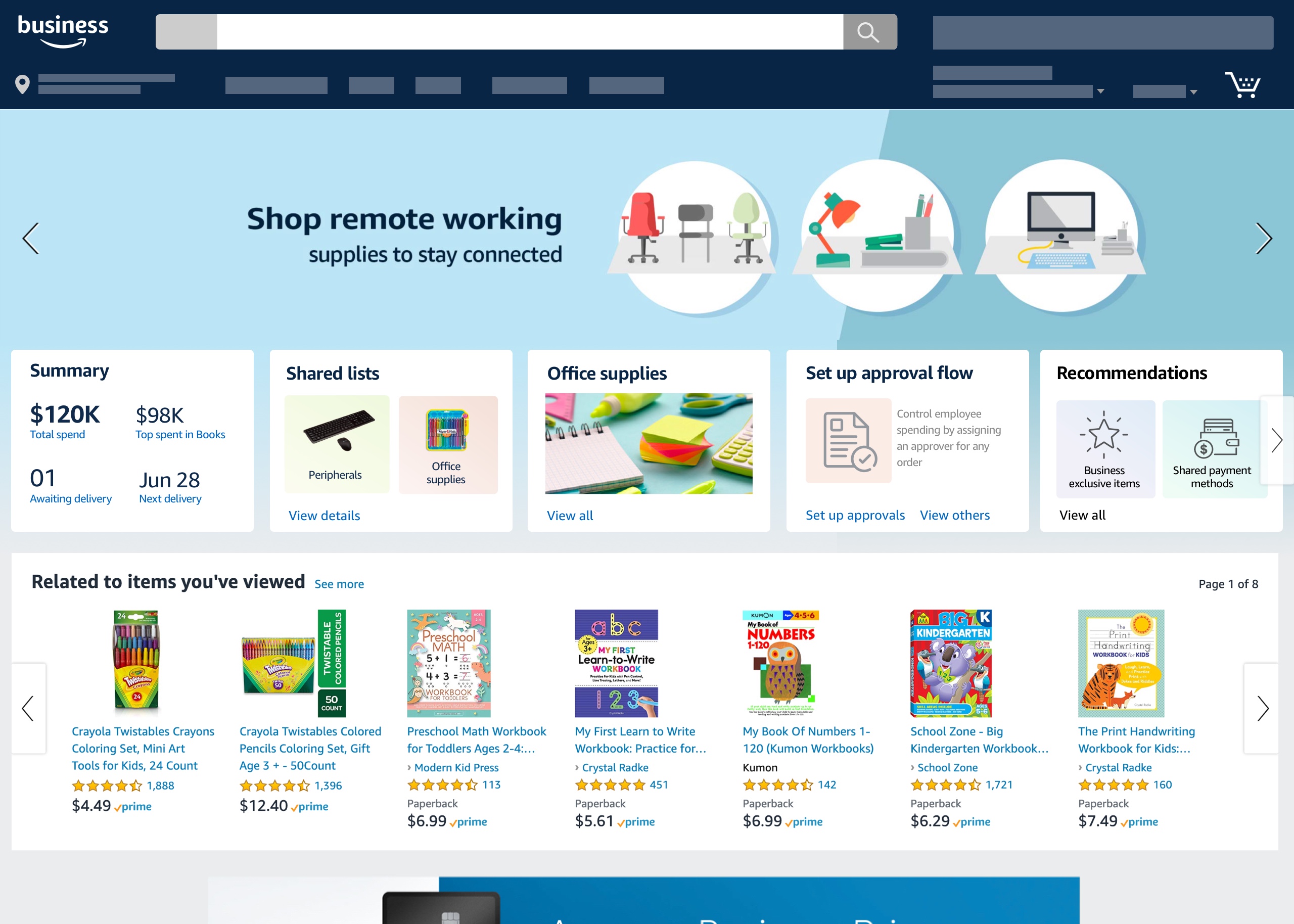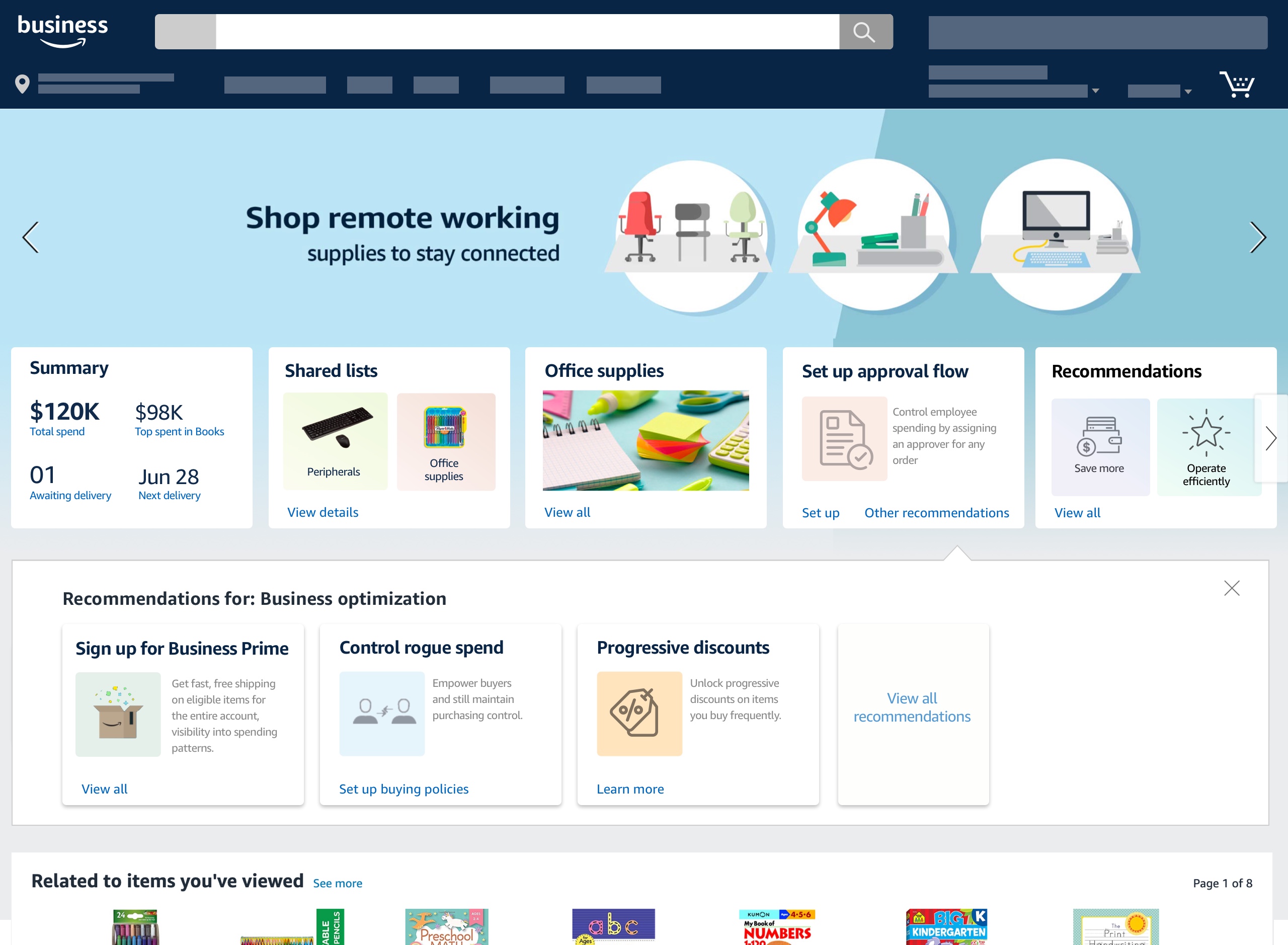 Recommendations hub & other ingress points
When the project is complete there will be multiple access points to recommendations. The recommendations hub surfaces all applicable recommendations as well as shows your progress towards completely optimizing your account.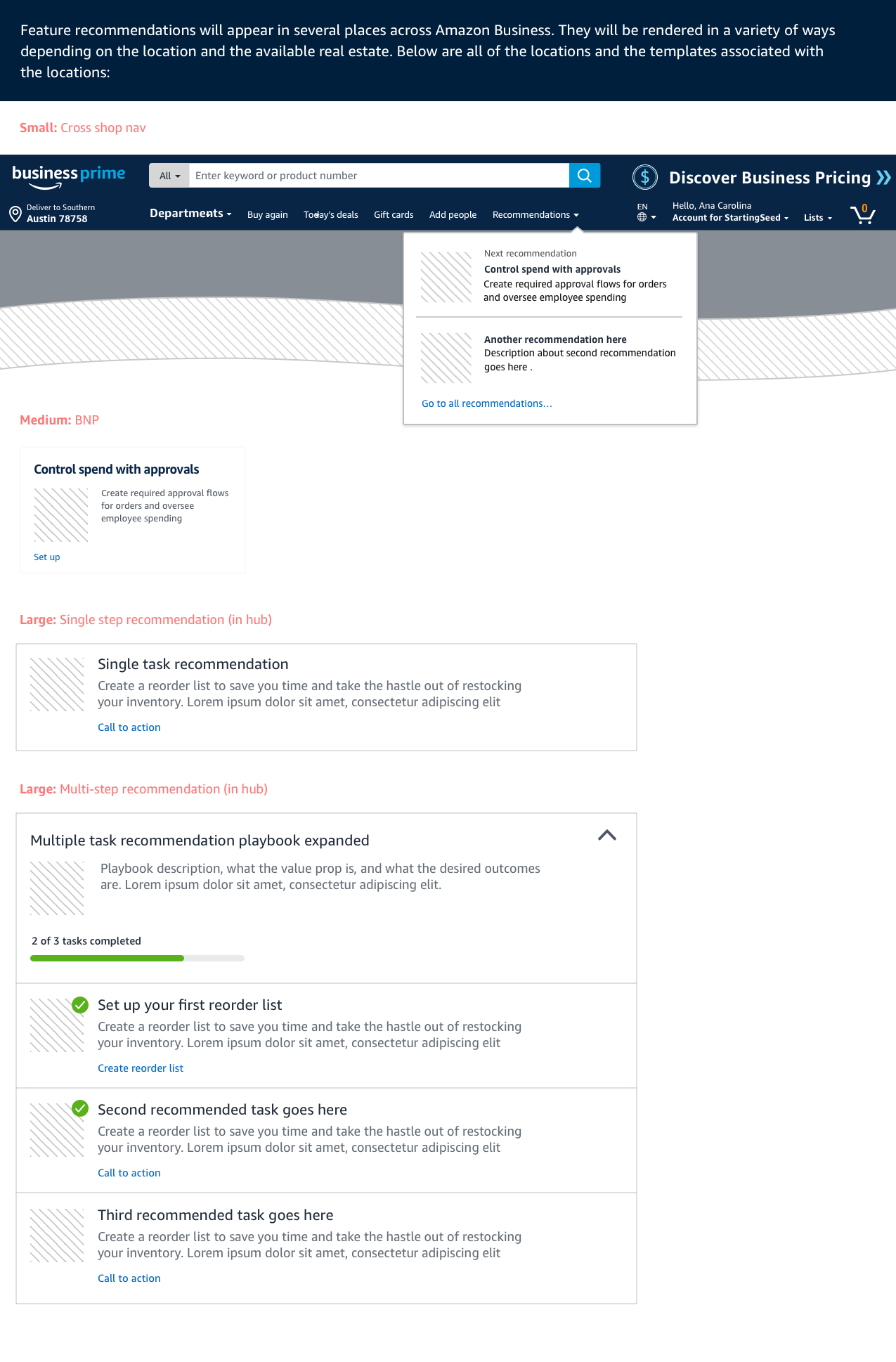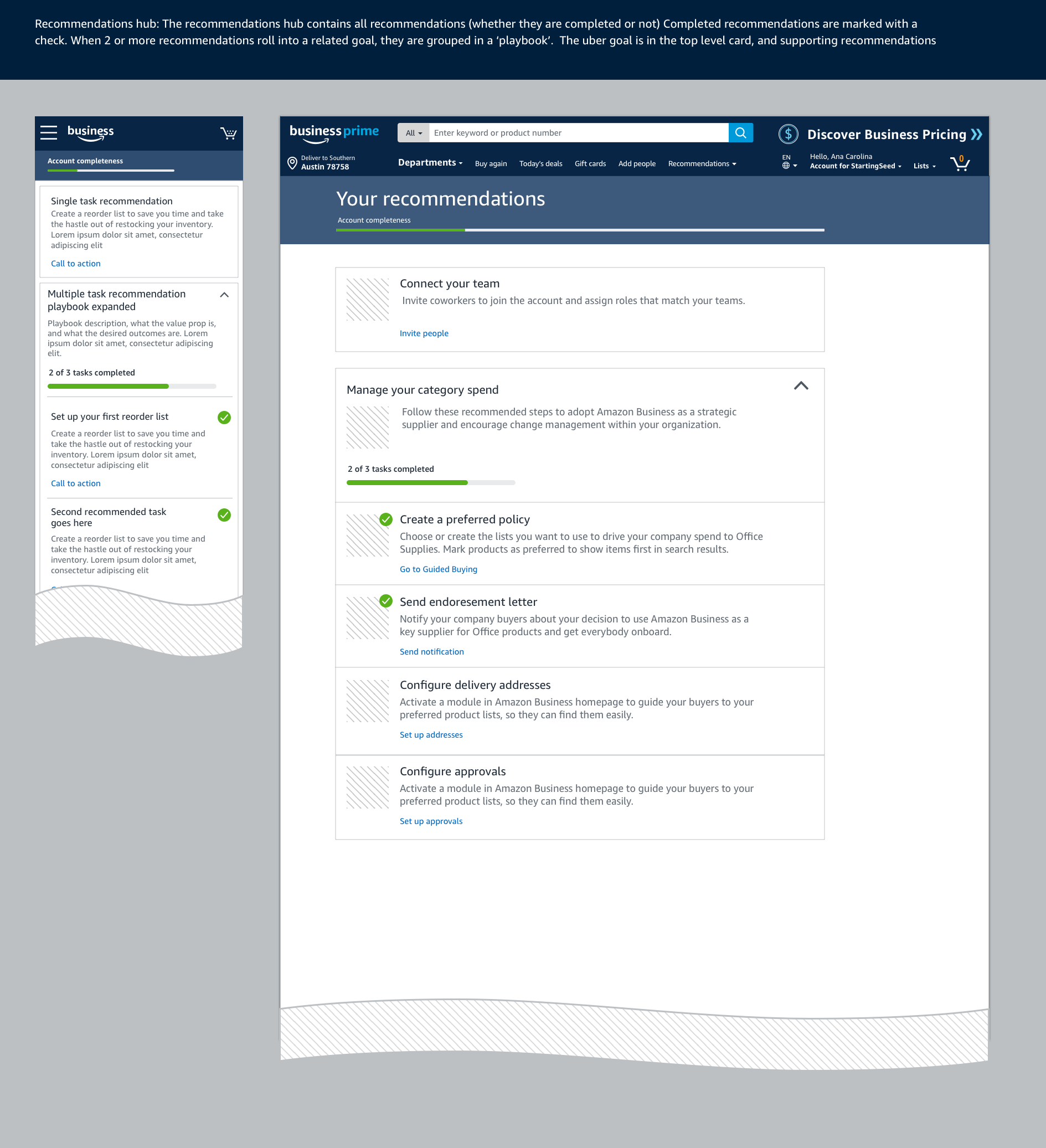 What I learned
Keeping customers engaged is an ongoing effort. While for some apps and web sites adding a 'guided tour' at the beginning checks the box of an onboarding CX, it is often skipped and ignored. Onboarding customers is a task that is best executed over the lifecycle of an account. The more we teach them how to make the most of product the more loyal they become to our product. This level of understanding is what led us after 4 months into the project to convince leadership to get headcount to start a project charter.
Always provide value for their effort, no matter how big or small. My research found when surveying customers by asking intermittent questions about their procurement habits, it was important to provide them with some small benefit or piece of validation regardless of their answer. This meant if their response didn't qualify them for a benefit, a lite explanation as to why we were asking or even an alternative insight was a way of rewarding them for their input. This method made them less likely to ignore future questions.
Meet them where they are. A guided tour may work for some, coachmarks for others, and some require a phone call or hand holding from a customer rep to master our products. In talking to a several customers about their knowledge of how to use the account, it was apparent that people utilize different levels of effort in learning to use a product. If a user is actively engaging in our survey questions, then we can depend on that user to continue to engage with them as long as they provide value. If a user never engages with them, then test out a different method.
Groom advocates & force multipliers. We learned that offline if we invest regularly in one user who has influence over policies and mechanisms within an organization, then they become an advocate for our service within their organization. They also become a person who can educate their team members offline, in areas where our online tools fall short or go unnoticed.